Collectable
SOLD!! Antique Large Steuben BLUE AURENE Vase #3295 by Frederick Carder
SOLD!!
This has been in my family for decades. I originally acquired it in Grosse Pointe, Michigan around 1970.
Its spent most of it's time in a glass cabinet, and is still thankfully in excellent condition. Please see the photos.
Please, write regarding shipping or additional information.
Click on "Details" for more photos.
More Details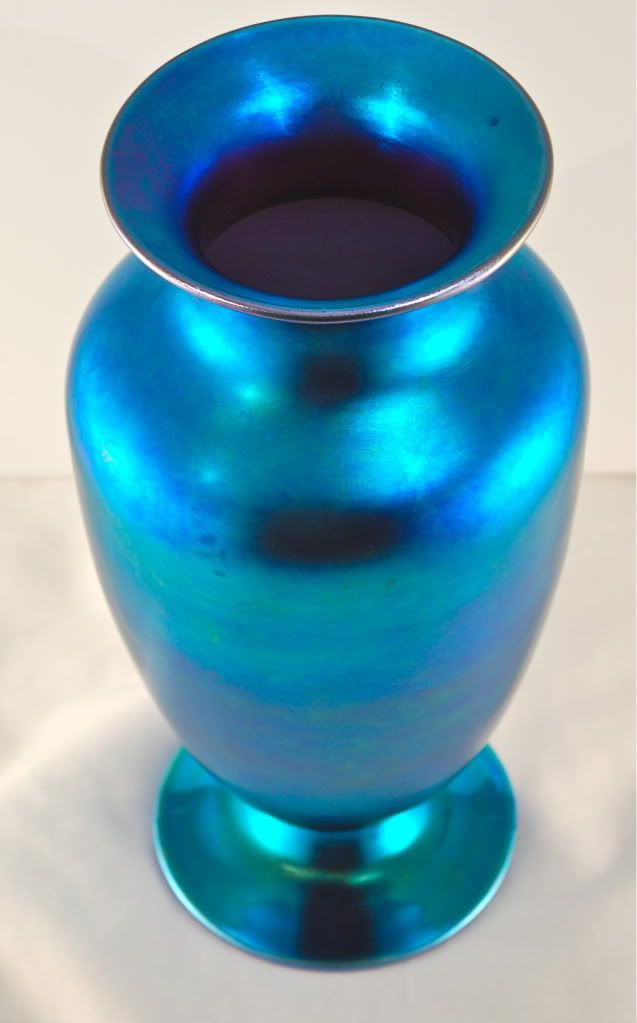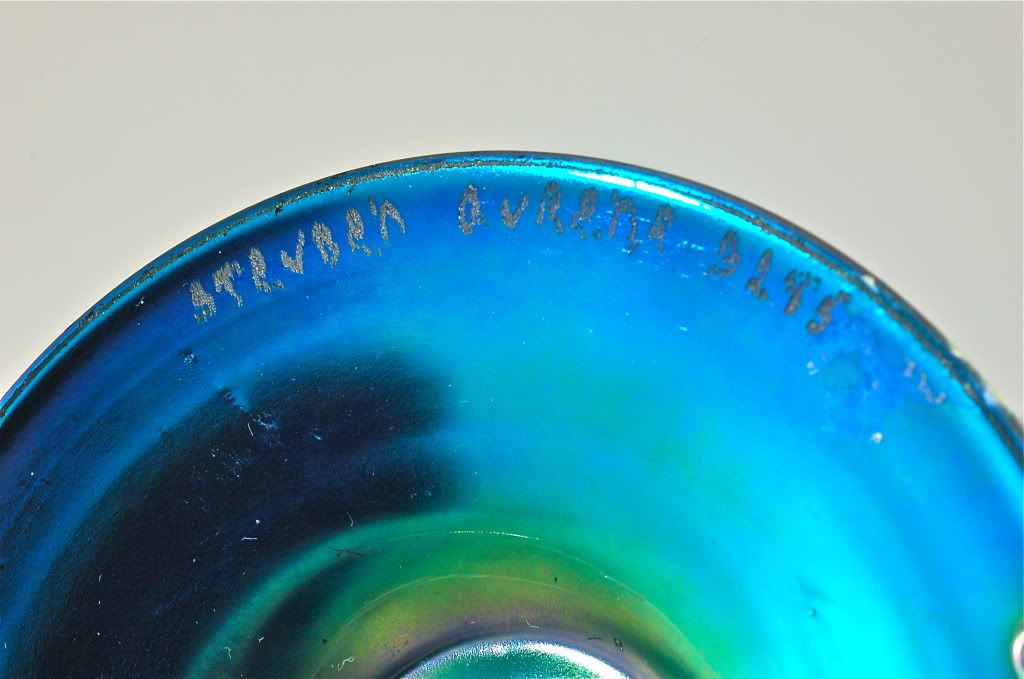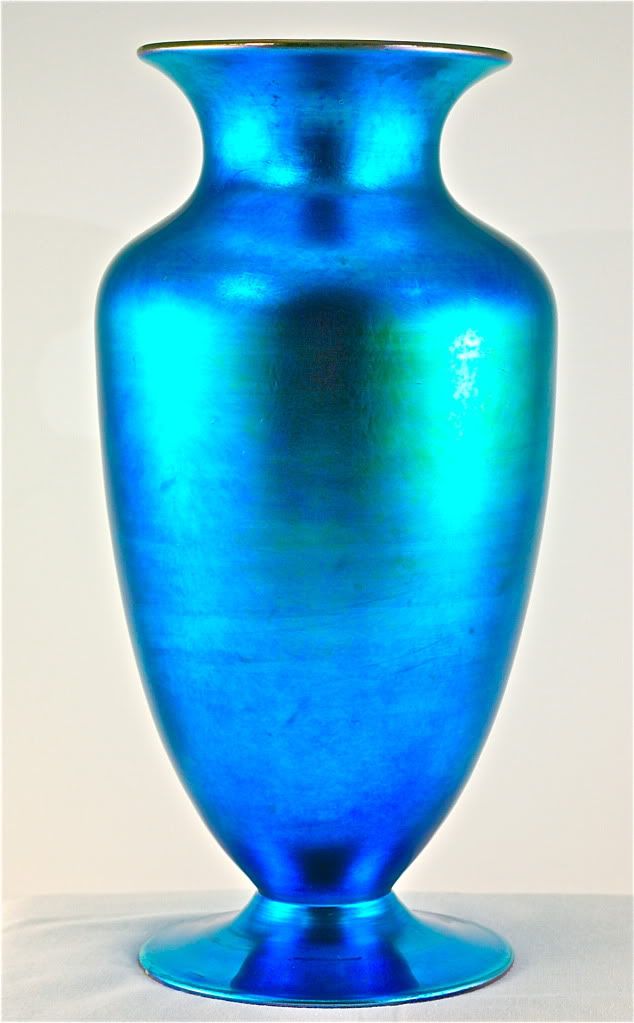 It is an absolutely beautiful knockout 20th Century Vintage American art glass piece.
A stunning example of Blue Aurene created by Mr. Carder, the co-founder of Steuben Glass in New York.
Fantastic rich iridescent peacock blues with vibrant shades of purples and greens that shift with the light. It also has a coppery gold highlight on the top lip rim's edge.
(To create the blue aurene, Carder added the precious mineral cobalt to the glass.)
This is a classic shaped vase, which stands visually tall at 12" height and 6" wide.
In an excellent state of preservation, no chips or cracks or problems.
Quite heavy, it weighs about 3 lbs.
Hand signed etched "STEUBEN AURENE" on the bottom with the numbers "3285".
It looks very rough the way it's put in, which was the normal marking for Steuben.
The date is 1920 to early 1930s. I do not own a reference book to be exact.
This is fabulous piece for a serious collector of vintage Steuben. It's impressive.
I'm now selling the last and best pieces of my Steuben collection on Ebay. Please also look at the other pieces for sale.
Feel free to write me if you have any questions. I will ship this Fedex or whatever you prefer...
I double box and float it with lots of padding!!!! this box will end up about 24" x 30".
Insurance is suggested. International buyers, please contact us for shipping information.
Background info.... As Steuben's chief designer, Carder created a new form of iridescent glass called Aurene. Unlike Tiffany's dense and dark Favrile line of iridescent glass, which was introduced in 1894, Carder's Aurene pieces were luminous and lustrous, seeming to radiate more light than they absorbed.
Frederick Carder (1863-1963), a gifted English designer, managed Steuben Glass Works from its founding in 1903 until 1932. At the age of 14, Carder left school and joined his family's pottery business in Brierley Hill, England. He studied chemistry and technology in night school. In 1879, he became fascinated with glass making after visiting the studio of John Northwood, where he saw Northwood's cameo glass replica of the Portland Vase, the most famous piece of ancient Roman cameo glass. One year later, on Northwood's recommendation, Carder went to work as a designer at Stevens & Williams, a large English glass making company. There, as Northwood's chief assistant, he experimented with glass colors and designs.
Carder moved to Corning in 1903 at the invitation of Thomas G. Hawkes, owner of Steuben. For the next 30 years, Carder had a free hand in designing that firm's products and developing new colors and techniques. In 1932, when Steuben's new president decided to concentrate on colorless glass, Carder left Steuben to become design director of Corning Glass Works. There he oversaw such large-scale projects as the making of cast panels for Rockefeller Center in New York City. As an octogenarian, he created smaller cast glass sculptures and other one-of-a-kind pieces. Carder's glassmaking career ended in 1959, when, at the age of 96, he finally closed his studio and retired.
During the 82 years in which he worked with glass, he produced many works that are dazzling in their virtuosity. Together, they include hundreds of colors and techniques. Robert F. Rockwell, a Corning businessman, was Carder's golfing partner and friend in the 1940s. In the following decade, he began to assemble a remarkable collection of Steuben glass. This collection, which was later given to the Rockwell Museum, is now on loan to The Corning Museum of Glass. Most of it is shown in the Carder Gallery, which also houses much of the Carder glass owned by the Corning Museum. Many of the Corning Museum's pieces were gifts from Frederick Carder or from his daughter. There is also a large group of colored Steuben objects, dating from the 1920s and 1930s, that came to the Museum as the gift of Corning Glass Works
He's considered a genius in glass.
Superb!! Antique Japanese Sterling Repousse Dolphins Belt Buckle
SOLD!!
Very Collectible unusual and rare antique Japanese Sterling Silver piece.
Gorgeous Style and details of twin Dolphins in this interlocking belt buckle.
Smooth finish sterling backs.
More Details
Very Collectible unusual and rare KERR Japanese style Sterling Silver art piece.
Authentic antique Kerr hallmarked Art Nouveau
I have had this piece in my safety deposit box for over 30 years. It is a genuine old piece.
If you would like more information please email me.
Excellent Condition. Nice patina.
Length of both halves clasped together is 5" or 126mm. Height or thickness is about 1/2" or 13mm. Width is 1 5/8" or 40mm.
It is stamped on back clasp with "STERLING' #189" and a small hallmark.
28.4 Grams.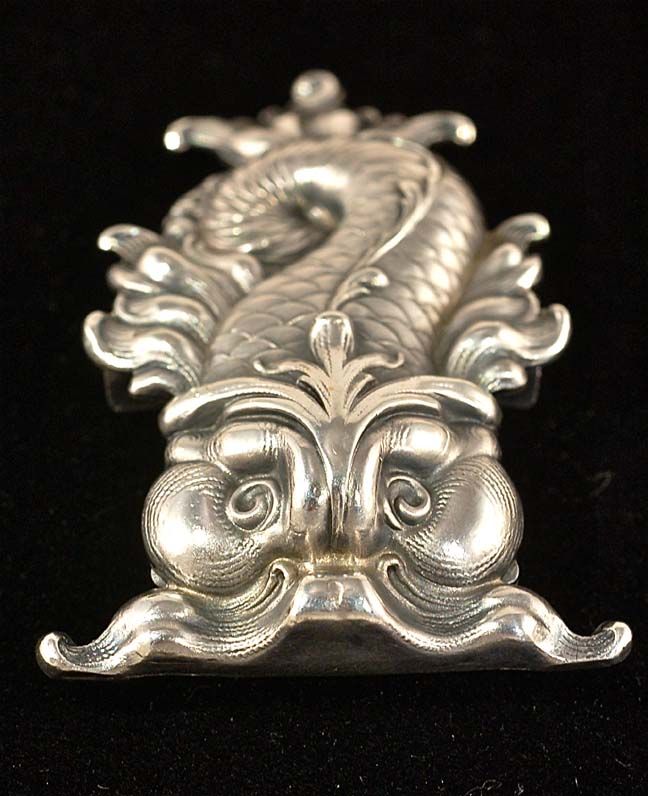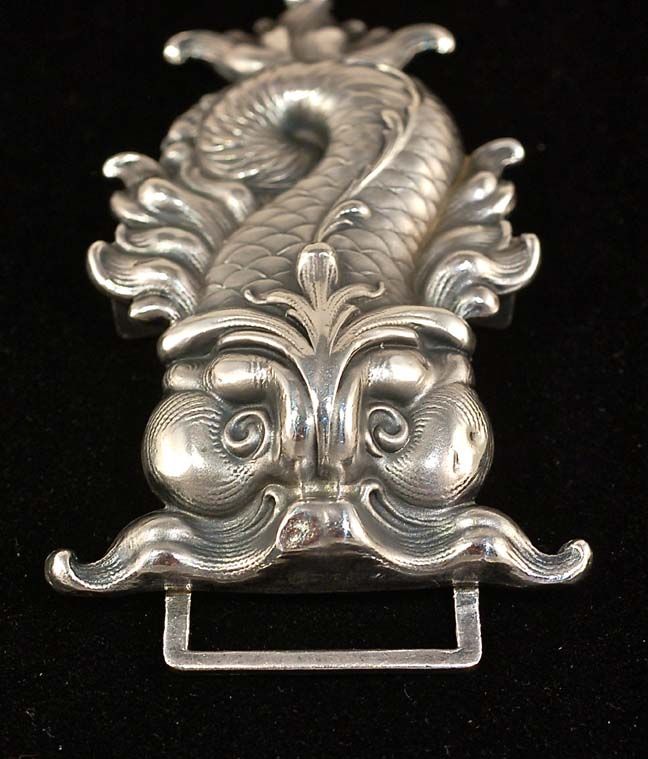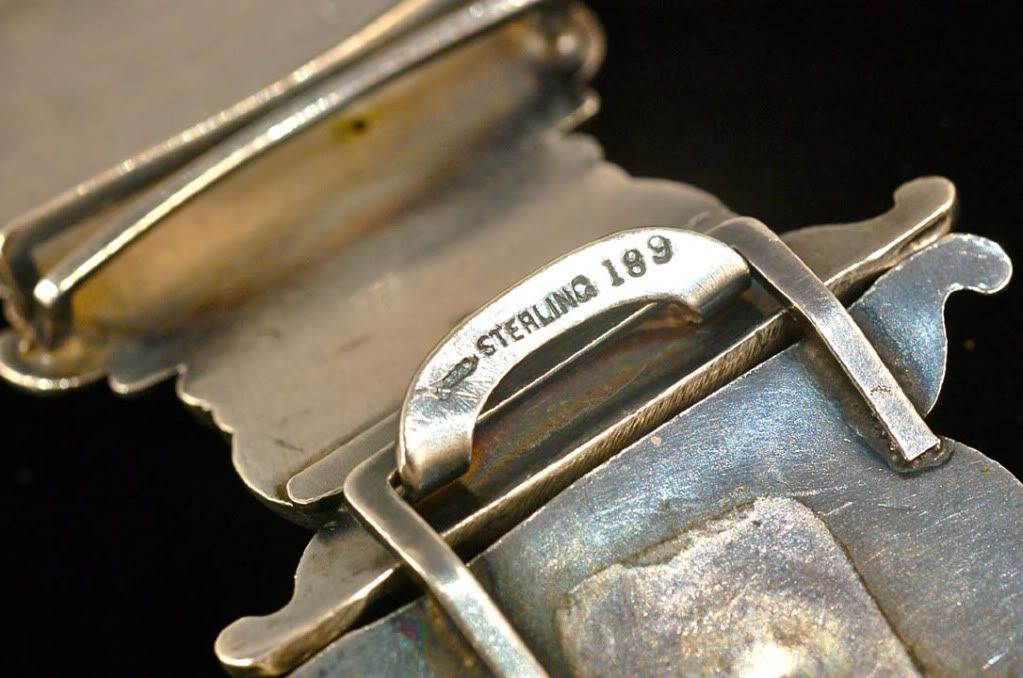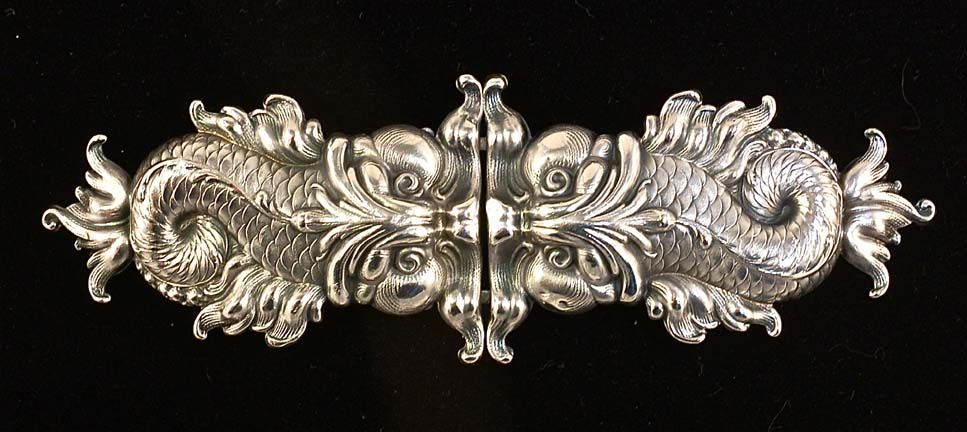 SOLD / Fantastic Georg Jensen #79 Brooch Pin/Pendant

SOLD!! Fantastic Jensen!
Very Collectible and unusual antique Large Georg Jensen #79 Brooch Pin/Pendant
Gorgeous Green matrix tear drop Turquoise & oval cabochon Coral stones set in Sterling Silver.
Dangling twin corals with hanging side chains. Hinged pendant ring on back.
Authentic exquisite old Jensen- I have owned this piece for over 30 years . It is genuine.
If you would like more information about this piece please email me.
Excellent Condition.
Height 2.5″H. x 2.25″ W. or 60mm x 55mm
Turquoise stone 1″ tall
Georg Jensen Hallmark stamped on back with name and number 79.